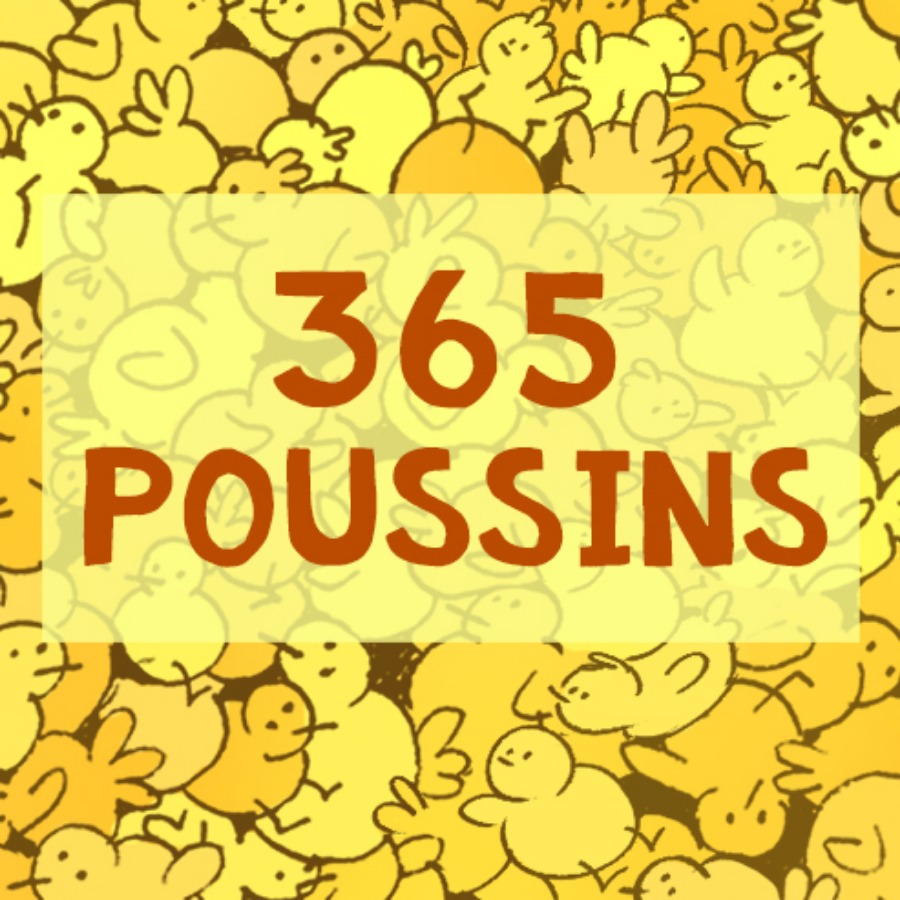 365 Poussins / 365 Chicks
Page vérifiée Created at November 14, 2018 Contact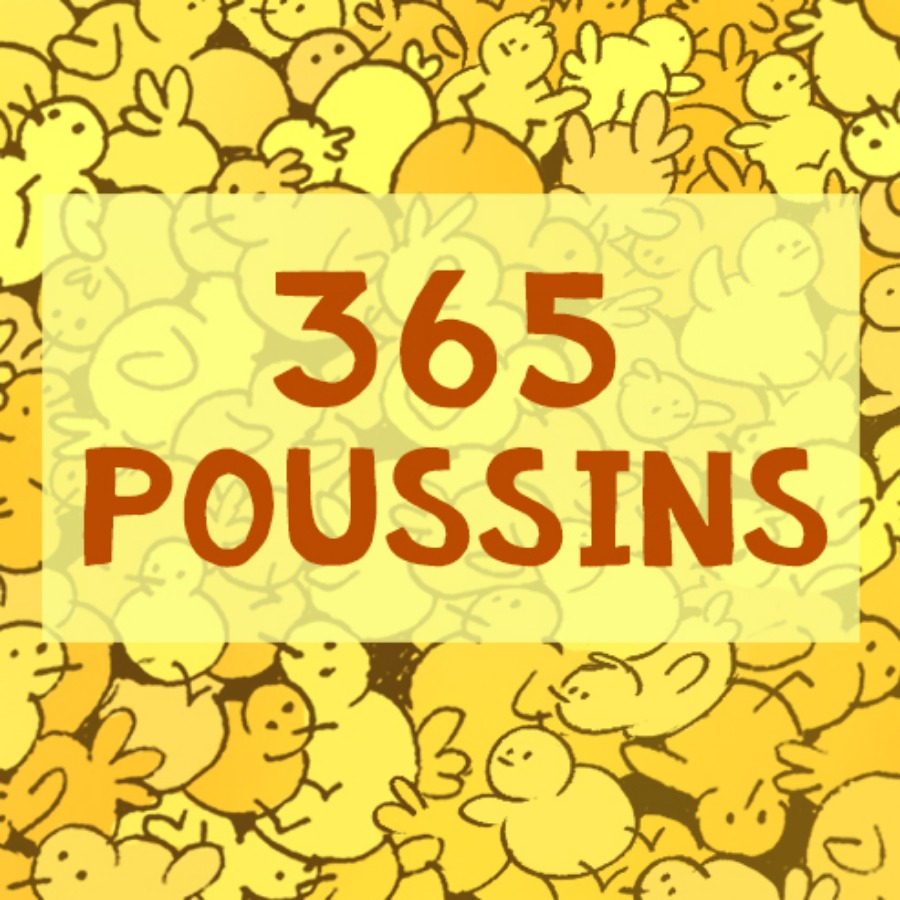 Latest news
D'où viens-je ? // Who am I ?

 

[FRA] Salut ! Je suis Lydie, je suis artiste freelance, ce qui veut dire que je peux travailler en pyjama et être payée mais aussi que je dessine pour du jeu vidéo, des illustrations, et de la bande-dessinée. Depuis Octobre 2017, mon crâne est envahi de centaines de poussins dodus, et leurs aventures prennent place au sein de mon webcomic "365 Poussins".


Que se passe-t-il tous les jours à Poussinville ? Les petits poussins passent leurs journées à interagir les uns avec les autres tout en vivant pleinement leur condition de boules jaunes duveteuses et dodues. Tous les récits sont garantis 100% authentiques. (résumé officiel de La Gazette du Poussin.)  

Je publie ces histoires courtes deux fois par semaine, le lundi et le jeudi sur les réseaux sociaux tels que Facebook, Instagram (Anglais et Français) et Twitter (Anglais).

//

[ENG] Hello there ! I am Lydie, a freelance artist, which means that I can work in pajamas and be paid but also that I draw for video games, illustrations, and comics. Since October 2017, my head is invaded by hundreds of plump chicks, and their adventures take place within my webcomic "365 Chicks".

What happens everyday in Chicktown ? All these little chicks spend their days doing whatever feels pleasant or interesting, interacting gently with each other. (Official summary of The Daily Chick.)

I publish the webcomic on Mondays and Thursdays on social networks such as Instagram (English and French) Twitter (English) and Tapas (English).


Qu'est-ce que je fais là ? // What am I doing here ?

Vous le savez sans doute déjà, mais vivre du dessin et particulièrement de la bande-dessinée,  c'est comme jeter des graviers dans un trou jusqu'à créer une montagne. C'est long, ça semble légèrement compromis, mais c'est un formidable objectif. J'ai l'intention de publier mes histoires sur du vrai papier un jour, mais entre signer chez un éditeur et la réalisation du livre, ça peut prendre du temps. 





En publiant 365 Poussins sur internet, je peux déjà faire vivre mes idées et les partager avec tout le monde.
Ce Tipeee est là pour vous donner l'opportunité de me filer un bon coup de main en me soutenant financièrement. Tous les dons sont utiles ! Voyez ça comme une poignée de graviers que vous jetez avec moi dans le grand trou de la vie et qui se transformera en un sommet à faire pâlir le Mont Blanc. 


Alors si vous en avez envie et si vous le pouvez, vous pouvez me donner un pourboire (un tip !) via cette plate-forme du montant qui vous semblera judicieux. Il n'y a aucune obligation, je mets ce système en place au bout d'un an de travail car je pense que parmi vous, des personnes seront intéressées par le fait de participer à leur manière au monde de Poussinville ! Voyez ça comme le mécénat du futur.
Avec cet argent vous contribuerez à faire vivre ces histoires de poussins, en m'aidant à acheter du matériel de dessin, de la nourriture comestible, et bien d'autres choses pour améliorer mon confort de travail et de création. 

La lecture de 365 Poussins restera bien entendu, accessible et gratuite sur internet pour tout le monde, mais encore une fois, vos dons seront seront fortement appréciés et perçus comme un encouragement supplémentaire ! Parlez-en autour de vous également,  à la pause café, à l'arrêt de bus, à la piscine, dans l'espace etc... Vous aiderez ainsi les poussins à trouver leur public.




(Il faut savoir que sur l'ensemble de vos dons, Tipeee, me prélève 8% en tant qu'intermédiaire et vous prélève environ 1 à 15% de plus que la somme que vous choisissez de donner et plus votre don et gros, moins vous avez de frais.
Exemple : sur un don de 2 €, vous payerez en fait environ 2, 18 €.)

//

[ENG]  You'd know it already, but being an artist and particularly a comics artist is not well-known for being an easy path. If I earned money everytime I draw a chick, I would have enough to turn my hometown into a giant hen house. However, making these stories and draw them takes some time, and I need some coins to live in fresh straw.


By publishing 365 Chicks on internet, I can share these stories with you, and having people telling me how much they appreciate them is making me going on with this webcomic every week.
Tipeee works exactly like Patreon, but since I have more French readers I opened a tip jar on this website first. (baguette obligated)

Remember that when you support independant artists like me, you support free content on the internet and creativity. With your money I'll buy better work supplies, seeds for the chicks and sandwiches.


I know that deep down, in the bottom of your heart, there is a chick that wants his adventures to be told to the world. All you have to do, is putting your bag of shiny gold over there and let my accountants birds do the rest.

It should be known that on all your donations, Tipeee takes me 8% as an intermediary.



Votre récompense d'âme généreuse // Your reward as a generous sparkling soul

En échange de vos dons, voilà les contreparties que je vous propose :

- Ma reconnaissance éternelle (évidemment).

- Un ticket de loterie pour gagner chaque mois un Poussin Original !

Je considère Tipeee comme une plate-forme où vous faites un don car vous aimez mon travail et souhaitez qu'il puisse continuer dans les meilleures conditions, et c'est pourquoi je propose une même récompense pour tous les tips : je tirerai au sort à chaque fin de chaque mois un Tipeur (vous !) et lui enverrai par la poste le dessin original dédicacé d'une histoire tirée de 365 Poussins.

Je prends en compte que chacun-e aide en fonction de ses moyens, mais je ne pourrai proposer la récompense du dessin original qu'à partir de 2 € de tip pour une question de frais de port.

Merci à vous et à bientôt !

//

[ENG] In exchange for your donations, here are the counterparts that I offer:

- My eternal gratitude (obviously).

- A lottery ticket to win each month an Original Chick !

I consider Tipeee as a place where you make a donation because you like my work and want it to continue in the best conditions, and that's why I offer the same reward for all tips: we will have a lucky winner at the end of each month (you!) who will get by post office an original drawing from a story of 365 Chicks.

I fully understand that each one helps according to its means, but I will be able to propose the reward of the original drawing only from 2 € of tip for a question of postage.

Thank you and see you soon !