Starting on Tipeee
WHO CAN GET CREATIONS SUPPORTED ON TIPEEE?
Tipeee is open to everyone who provides free content on a regular basis on the Internet or elsewhere. Whether you are a Youtuber, author of a comic strip, podcaster, fanzine editor, blogger, street artist, or whatever else... If your creations unitea community that wants to support you, then Tipeee is for you!
Create an account, customize your page and let your fans know about your Tipeee page!
ARE ALL PROJECTS ACCEPTED?
No. After creating your profile on Tipeee, a project manager reviews it to validate its launch on the site or not. Therefore, we reserve the right to refuse creators who offer sexist, insulting, xenophobic, or illegal content. Furthermore, we evaluate projects subjectively, and won't accept those that go against our general philosophy. To better understand Tipeee's values, refer to the question "Finally, why use Tipeee?".
DO I HAVE TO PUBLISH MY CONTENT ON TIPEEE TO GET MY TIPS?
No, you can continue publishing your content wherever you used to do it before.
If you choose to collect your tips on a monthly basis, you don't have to do anything? . Your tips will be transferred to you for each completed month.
If you choose to collect your tips for each item of content you publish,you just have to activate your tips. To do so, it's very simple: on your creator page, you will find a button that allows you to post an update activating your tips. This update can either be your content (Youtube video, image, text, etc.) or just a link to your content.
Your tippers will receive an email which summarizes the amount of their tip and a link to the content they tipped for. If the community doesn't make any particular objections within a few days after the email has been sent, your content is considered as "valid" and your tips are acquired.
DO I FULLY RETAIN THE INTELLECTUAL PROPERTY OF MY CONTENT?
Yes, you own 100% of the rights to your content. Neither Tipeee nor Internet users can claim ownership rights over your content!
Tips
WHEN WILL I RECEIVE THE SUM COLLECTED FOR MY CONTENT?
Our staff will proceed with an automatic transfer to your bank account and your PayPal account once a month (depending on payment methods selected by your Tippers), on the 30th of each month (if the 30th is a Saturday or a Sunday, the transfer will be made the following Monday). There are two things to keep in mind:
- Whether you have chosen to collect your tips on a monthly basis or for each item of content you publish, Tipeee will only pay you once a month. This rule applies for everyone and we can't make exceptions.
- Payments will be made month to month, and will reflect sums earned the previous month, for reasons of banking transactions. For example, if you create an account in early January, you'll then receive the accumulated sum for that month, at the end of February, and so on.
Caution: To receive all of your money, you must specify the details of your bank account and PayPal account, on your Project Dashboard under "Payments".
For example, if you haven't specified the details of your PayPal account, we won't be able to pay you the total amount of tips left through PayPal.Pending amounts will be paid the following month, if you have completed the missing details.
HOW MUCH DOES IT COST?
Tipeee's commission is 8% of the monthly amount collected in tips. This 8 % will be automatically deducted from the amount that we'll pay you each month (split between the amount paid into your bank account and the amount paid into your PayPal account, depending on the payment methodchosenby your tippers).
Additional fees may be charged onto you, these depend on the payment method used by your Tippers and the fees added by the payment companies:
- In the case of payment partially or the total amount collected wired to your PayPal account, transaction fees are charged by PayPal and represent 1% (maximum: € 6) of the amount paid to your PayPal account (after the deduction of the Tipeee commission)
- In case of Tips received using Paysafecard, a deduction of 15% is made of the amount of each tip received (amount taken before the deduction of the commission Tipeee)
Signing up for and using Tipeee are completely free.
Building My Page
HOW SHOULD I CHOOSE MY REWARDS?
- Offer a unique experience, something symbolic or exclusive (ie: mp3, Hangout, Skype, exclusive videos, personal thank-you note via a video,a personal thank you message posted on a tipper's Facebook or Twitter account, etc.)! This will only cost you time and attention.
- Make more use of digital rewards to avoid shipping costs, breakage, address issues… etc.
- You can offer material rewards if/when you meet your tippers in real life. For example: "come down to my showcase where I'll give you the band's T-shirt".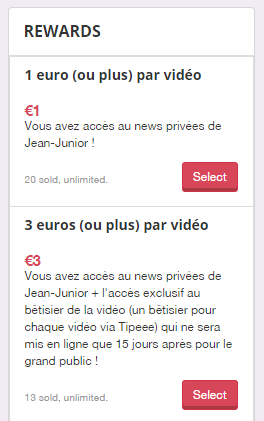 - Each Tipeee page, has an "update" tab in which you can keep your tippers up to date with your progress and provide exclusive content. Keep in mind that you will easily be able to make some of this content "VIP", meaning that only some tippers can have access to it.
- Also, you can limit the available quantities of a specific reward for users. For example, if you only have 20 invitations available for your monthly showcase, you can limit the reward "invitation to my showcase" to 20 tippers.
- Finally, the best advice that we can give you is to get inspiration from other creators! Don't hesitate to have a look at other crowdfunding platforms to get ideas!
WHAT IS THE "GOALS" SECTION FOR?
The "goals" section is optional. It allows creators to explain how their content, or the way it is produced, might evolve depending on the amount of tips collected for the next video.
This section is only informative but might help users to project themselves into a common project and motivate to support.
Manage My Page
CAN I EDIT OR CANCEL MY TIPEEE PAGE AT ANYTIME?
Yes, of course, you are the only master of your Tipeee page and its management. Once you have confirmed the cancellation of your Tipeee page, the "tip" button will be made unavailable.However, your page will remain available to users until all promised rewards have been delivered. We don't review the edits you make to your Tipeee page unless you decide to change the type of content that you wish to propose for tipping.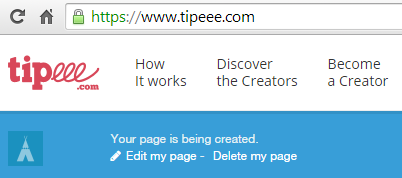 WHAT HAPPENS ONCE MY PAGE IS LAUNCHED?
Once your page launched, it is accessible via its URL (page's address) and from our own search engine. Then all you have to do is spread the word.
Please note that for your project to appear in the website's directory, you must have convinced at least 5 tippers to support you. So, come up with great rewards and share your page as much as you can. Any approach that garners tips is good.
1
2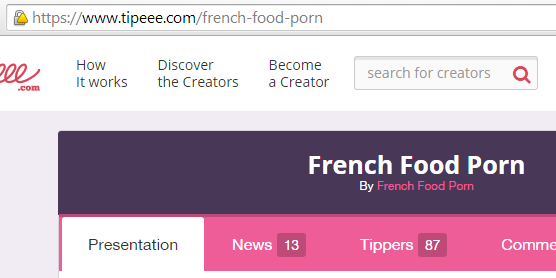 Clipeee
What is Clipeee (support by watching music videos)?
Clipeee is a new feature available right now on your creator page. It allows your tippers to support your work for free, just by watching music videos.
How do I activate/deactivate Clipeee on my creator page?
It's very simple:
- go to your creator page
- click on "edit my page", Clipeee then appears on the right hand side, just below the amount of Tips you've collected
- activate or deactivate the feature by clicking on the cog icon
How much can I earn with it?
You'll earn 3 cents each time a Tipper watches a video for at least one minute (this length may vary from video to video).
How and when do I get the money earned with Clipeee?
The amount of money you've generated by Clipeee is visible on your dashboard. This money will be wired to you with your normal Tips (more infos).
Beware: you must have a certified bank account registered on Tipeee for us to be able to pay you. If you haven't registered one yet, please go to the Parameters of your creator page.
Are there any limitations to the use of Clipeee?
Yes, each view is processed by an algorithm to avoid any abusive usage of the feature.
---