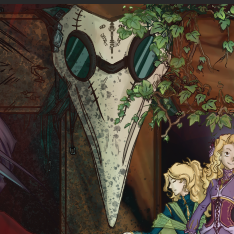 Latest news
Who are we?

Hi, we are the 2 creators of the Light Novel project: Fate/Misty Lament.




Misty Lament is a Fate fanbook series in a whole original setting with brand new characters and motivations.

The first volume will have around 200 pages with illustrations.

The Light Novel will be available in English and French, in digital or paper format.




Here is the summary of our story:

1888, 20 years after the second Holy Grail War, the Grail suddenly appears in London. None knows what the reasons are, none knows what the consequences will be. One thing is certain, the third great war has started and the 3 great families are already ready for battle. Clarke, a police inspector finds himself involved without his consent in this bloody ritual.

The prologue is available for free at: https://drive.google.com/file/d/1ZtHtSFbNr7T2CHlIQsjyCw4gLGEBtTY2/view?usp=sharing in English (French link below)





Thanks for reading :)




Bien le bonjour, et bienvenue sur cette page tipee.




Nous sommes deux créateurs et nous travaillons sur un projet de Light Novel: Fate/Misty Lament.

Misty Lament est une fanfiction basée sur l'univers de Fate. C'est une histoire originale mettant en scènes de nouveaux personnages et décors dans une intrigue inédite.

Le premier volume contiendra environ 200 pages, illustrations comprises.

Le Light Novel sera disponible en anglais et en français en format papier et digital.




Et voici un rapide résumé de notre histoire:

1888, 20 ans après la seconde guerre du Graal, ce dernier réapparaît à Londres ! Nul ne sait quelles en sont les raisons, nul ne sait quelles en seront les conséquences. Une chose est sûre, la troisième grande guerre a commencé et les 3 grandes familles sont déjà prêtes au combat. Clarke, un inspecteur de police se retrouve embarqué malgré lui dans ce rituel sanglant.

Le prologue est mis à disposition gratuitement en anglais et en français sur:
Fr : https://drive.google.com/file/d/1ULzDGQLX8MnSgJv5Mc8l9samBfgI6mVV/view?usp=sharing

Merci d'avoir pris le temps de lire :)


Why are we here?

This Light Novel project started a year ago and takes a very long time and work. The first volume contains the Prologue and the first seven chapters but the whole story is made to last for around 30 chapters.

The first volume is now done and the second is in progress. We're working hard to make it as good as possible!

Tips allow us to publish good quality printed books but also to participate in conventions, have stands, make a possible website and work in the best possible conditions.


Ce projet de Light Novel a débuté il y a maintenant un an et nous a requit quantité de temps et de travail. Le premier volume contient le prologue ainsi que les sept premiers chapitres de l'histoire. L'intégralité de l'histoire contient environ une trentaine de chapitres.

Le premier volume est maintenant terminé, l'écriture du deuxième est en cours. Nous travaillons durement dessus pour que le résultat soit aussi bon que possible!

Les tips nous permettent de publier des livres imprimés de bonne qualité mais aussi de participer à des conventions, tenir des stands, créer un potentiel site internet et travailler dans les meilleures conditions possibles.




What are the counterparts?

First of all, for 1€ you'll get your name at the end of the next novel, then we intend to give a very symbolic illustration with many thanks to those giving a 5€ donation.





In addition, we are giving you the digital first volume in the language you want (between English and French) for 7€ The paper version will be sent at 20€ donations.




Finally, for more than 70€, you'll also get an unique A4 colored illustration.




These counterparts are all cumulative!




Tout d'abord, pour 1€ vous aurez votre nom à la fin du prochain livre, puis, pour quiconque nous donnerait la somme de 5€, nous avons l'intention de donner une illustration symbolique avec tous nos remerciements.




De plus, nous vous délivrerons pour 7€ le premier volume en format digital dans la langue de votre choix (anglais ou français). La version papier vous sera envoyé à partir de 20€ de donation.




Enfin, pour 70€ et plus, vous obtiendrez une illustration A4 en couleur.




Ces contreparties sont toutes cumulables!